Today I'd like to talk about mobile apps in combination with business, and why you should consider building a mobile app for your own company.
If you think that mobile apps are solely for big name brands like Walmart and Bank of America, you are wrong. More and more small and midsize businesses are following the mobile trend, understanding that an effective mobile strategy involves more than just a mobile-friendly website.
In fact, these days you'll notice that many small businesses you interact with in your everyday life have their own dedicated mobile app — be it the corner coffee shop or the beauty spa downtown. These companies are ahead of the game when it comes to taking their marketing to the next level.
In case you are still not sure why anyone would want to build their own mobile platform, here are the top seven benefits of going down this path sooner rather than later.
#1. Increased Visibility
A person spends on an average 162 minutes on his/her smartphone every day. Though, just a handful of major applications are used in this time frame! But in order to even access those applications, one has to unlock his device, scroll the menu and scan for the right app.
"Here's a bit of science: Our brain unconsciously records every image and text we go through. "
Having your app "in the way" of scrolling, will not just increase your business visibility but will literally help your business to grow.
Increased visibility will ultimately increase your leads
You can even add promotional offers within your app to keep your consumer engaged.
#2. Cultivate Customer Loyalty
Enabling customers to book a table, order food or pay for their order using the app on their smartphone, the business gets a powerful tool to increase loyalty. Integrate loyalty programs into the mobile app and share useful promotions, discounts, or bonuses with customers.
You can take full advantage of the personalization tools by sending push notifications about new promotions and discounts. You can offer users who have installed the app access to exclusive offers and special bonuses.

If people want to get additional information about your company, or products and services that you offer, they can always do it 24/7 via the mobile app. Constant interaction increases loyalty, and in turn, a good loyalty level stimulates sales.
#3. Better Brand Recognition
When it comes to product and services, you want your brand to be the first thing that a customer recalls. And a mobile app extensively helps you in creating your brand awareness.
You might be thinking how?
Well, first and foremost, you'll obviously include all the useful features that your customer will love.
Secondly, you'll include in-app offers and promotions to keep a customer engaged. The more engaged your customer is, the more inclined he/she is to buy your product/service.
#4. Marketing & Communication Channel
Mobile apps can be successfully used to attract attention to the brand through various marketing campaigns. In such a way, you expand the potential audience of customers and develop trusting relationships with them.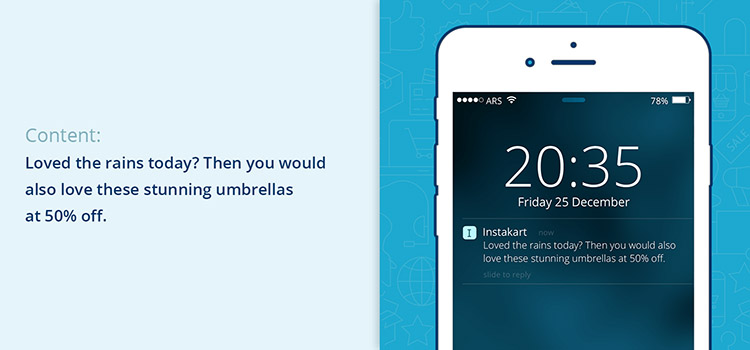 The fact is: launching your own app is an advertising step anyway, as it allows you to use other marketing tools. For example, you can publish news on relevant resources or send out press releases.
Especially valuable in this context is the possibility of receiving feedback from users. For instance, you can run polls, conduct surveys, enable users to report errors, and so on.
#5. Rise in Profits
Customer satisfaction is directly proportional to sales. That said, an increase in customer satisfaction will typically increase your sales as well.
As we all know, most of the people connect to the Internet via a mobile device today. Having a responsive website that can adapt to any screen, irrespective of its size is a must. But if you also launch a mobile app for your business, you'll see an exceptional rise in your sales and profit.
The practical example of this is Domino's Pizza app.
When Domino's launched their mobile app for placing an order, delivery and in-store pickup, they saw an unbelievable rise of 28 %in their sales (only in the UK) just in the first six months.
The present day, more than 52% of their orders are placed through their mobile app.
#6. Increased Accessibility
It's nearly impossible to reach the target clients at the same time at different places. One of the major benefits of a business mobile app is it offers greater exposure on different mobile devices at a given moment of time.
Having said that, you as a business owner can send a discount/offer push notification to your user anytime. Sending a notification will encourage a customer to visit your app, check the available deals and might even end up resulting in a purchase (that too within a few minutes).
#7. A source of valuable analytics
By utilizing a mobile app, you can collect a lot of useful information for further analysis. For instance, you can learn which products your customers buy the most. As well as, how much time they spend on the app. Or even, which functions are the most used and which are the least popular?
By tracking the way people interact with your app, you can understand how you can improve it to provide them with a better user experience. Understanding your customers is the key to success in any business niche.
You can get data about the audience's geolocation, demographic data, information on interests, and many other interesting statistics which you can use and take advantage of.
✓  More visibility in Google SERPs
✓ An app works on a specific algorithm and won't have a mood-based performance like a human being.
✓A customer will be presented with the same face always; the app interface. An interface generally stays the same for all the pages.
Businesses have realized the importance of mobile devices and other mobile channels in attracting new customers. But when it comes to mobile, small companies can either afford a mobile website or a mobile app.
Both the mobile app and website serve a useful purpose and both have their own limitations. But statistics show that business owners prefer an app over a website.*
*Our intention is not to prove that mobile apps are a better alternative than mobile websites. We are just pointing out the areas where a mobile app offers greater benefits to a business than a mobile website.
Perks of creating a mobile app rather than a mobile website

☛  Push Notifications:
Push notifications allow a business to send a message or a notification on a mobile device, irrespective of the place and time. This helps a business to keep a customer updated about the news, offers, deals etc.
☛  Personalization:
A mobile app offers greater personalization as compared to mobile websites. An app publisher can include an easy-to-access payment system, location alerts, and better options for user's convenience.
"Plus point: The app store (whether on android or apple) has set a minimum speed limit for apps. "
With that said, a mobile app is ought to offer a snappy user experience.
☛  Customer Loyalty Feature
Every business generally offers some reward point to its potential customers. A mobile app allows the business to offer a reward system to its dedicated customers. This, in turn, attracts more customers and eventually adds to the business growth.
☛  Better Social Networking
A mobile app can easily redirect customers to other social platforms associated with your business.
Conclusion
A mobile app won't really save your business, but it'll make it future ready. A mobile app will also help you in securing a strong brand presence in the industry!
But hey! Building a mobile app isn't as easy as building a mobile website. You need have a thorough knowledge of different platforms and numerous coding languages.
What are you waiting for? Let's create awesome mobile app for you business!